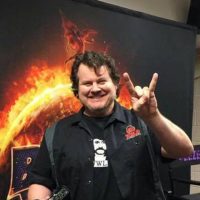 Steve King
Monday, Tuesday, Wednesday, Thursday, Friday -- 05:00 AM - 10:00 AM
Steve King and the Most Classic Rock in the Morning
I was born to two great parents in Lansing, Michigan (Go Spartans!) in 1969. My very first concert was almost Woodstock, but my poor folks couldn't scrape together enough gas money to get there. I basically grew up on the tough streets of Detroit (ok actually a vinyl village subdivision in the 'burbs) until we moved to the Cincinnati area. There, I finished high school with a blazing 1.8 GPA and begged my way into The University of Kentucky. After three successful years of binge drinking, I transferred…ummm…yeah transferred to Northern Kentucky University where I finished college, met my wife and got my first radio job at WKRQ in Cincinnati. No, not WKRP.
A lot of people ask me "Steve, why did you decide to go into radio?" Well, I'll never forget what my high school guidance counselor said to me "The world needs ditch diggers too…" Actually, that might have been Judge Smails from Caddyshack. Either way, I took those words to heart and set off to become the worlds best ditch digger. You know what; I suck as a ditch digger. Now that scared me! So I fell back on the only career opportunity I had left….radio.
I worked in Cincinnati radio for about five years before moving to Greenville, South Carolina. Everyday I was there I was called "a yankee" and forced to eat my weight in collard greens. After two years of that, I had to get back to the Midwest. I worked at a couple of radio stations in Indianapolis. Then in 2004 I made the move to Omaha. Waking up early and playing great Classic Rock on CD 105.9 was the best career decision I've ever made.
I have been married to Tina, the most understanding woman in the world, for 20 great years. I have a son, Riley who is a little copy of me (poor kid) and a daughter Delaney who is even more dramatic than any Hollywood actress!
I enjoy bubble baths, moonlit walks on the beach, SCUBA diving, cooking, old cars, The Beatles, sharks (I even have a shark tattoo…ask me where later) and Makers Mark Bourbon.
Steve's Links