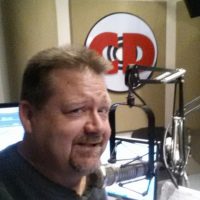 Jeff Larsen
MONDAY to FRIDAY -- 10:00 AM - 02:00 PM
Jeff Larsen has been the Midday Host on Omaha's Classic Rock-CD105.9 for over 5 years now, and does double duty as your friendly morning and afternoon Traffic Reporter.  Jeff is an Omaha radio veteran, award winning commercial voice-over talent, and an avid outdoorsman (if it's not too hot, or cold, or raining, or he can't get his boots on, or if the mosquitos are out…).  When he's not walking upland fields over pointing dogs or in his boat fishing, you'll find him digging through his classic rock album collection for some old school listening.  Listen to Jeff on-air from 10 am–2 pm weekdays as he plays the MOST Classic Rock during the workday and YOUR requests during the "Classic Cafe" from Noon-1pm on CD-105.9!
Are we Facebook friends yet?  Do a Jeff Larsen search and look for
   vvvvv     THIS picture.  You'll get FREE traffic advice like this!    vvvv
"I Run This Church For Bloggers"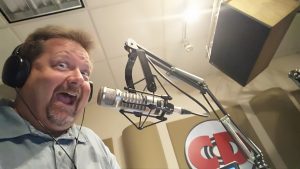 I used to have this Ash Tree in the front yard of my old house that would alert me when I needed a vacation.  Every October, usually in less than a week, all the leaves on that tree would turn this gorgeous yellow color, and then just about a week later, virtually EVERY ONE of those leaves would drop onto my yard in less than A DAY.  Except for maybe a dozen at the very top that would hang on until I got ALL the others raked up, and then they would jump onesy or twosey per week well into January just to spite me!  Every year that tree was like an alarm clock for my soul.  The crunching of those leaves, as I raked, inevitably and automatically stirred a primordial yearning to migrate north to my sacred hunting grounds in the glacial lakes region of South Dakota, as I had done EVERY YEAR since the age of 14, to hear and feel the crunch of my footsteps thru tall grass and marshes in search of the wiley Ring Necked Pheasant!  It was also a time for me to re-connect with family members from that area, many of whom had roots going back to the early pioneers that settled the land.  For many years up there it was truly a time capsule.  MILES and MILES of open grasslands, never chewed down to the soil by cattle or turned over by the plow for planting.  Natural grasses interspurced with prairie pothole ponds and lakes that were carved out and filled in with water millions of years ago by giant chunks of glacier ice that broke off and decided to stay there and melt.  Beautiful deep…OR shallow pools? (you never really knew, and didn't ever want to find out the hard way) of reflective dark blue water, rimmed in rich black alkali soil that smelled like a downtown sewer system in a big city.  Hope that part didn't ruin the visual for you. I can guarantee it will ruin a good day of hunting if you step and sink up to your crotch in it!   There were miles and miles of meandering natural drainage along the scenic James River, just loaded with all species of ducks and lined with tall reeds and cattail marsh that, for more that 100 years, sheltered the pheasants and other wildlife thru the most brutal winters the north country could throw at them.  When I first started going hunting with my uncles in the late 70's as a kid, the area from Aberdeen to Ipswich…Redfield to Warner was a well kept secret mecca!  The areas around Chamberlain and Winner, SD. were considered "The Pheasant Capitals of the World"….and that's where most of the out of staters and many in state hunters would "flock" to.  From Florida to Texas, Michigan to Montana, you could see license plates from all over come to chase ringnecks in South Dakota, because not only did they have all that great natural habitat the Pheasant and Hungarian Partridge needed to flourish, the state MANAGED the land for the tourism dollars that came in every year in October.  A special $5 "Pheasant Stamp" was needed to hunt birds, in addition to the license cost $50 (back then…it's up to $121 now), and the license is only good for 10 days.  You could take them consecutively, or do two 5 day stretches, allowing you to make make a 2nd trip up for the "late season birds.  THOSE birds were the true rugged survivors, the mature, tough, fast flying long spurs that had already seen a season or two and heard plenty of shots fired their way as they cackle-laughed at you during their getaway.  THOSE birds were the "pros", real trophys! spooky birds that knew the art of the wrap around and the back door flush.  Little tunnel running bolts of lightning that had been plotting escapes and laughing at hunters as they walked right over them for a dozen weeks or more.  More on THOSE guys perhaps in a later blog.  My youthful, pain free years walking upland fields were the best! It was during those days that I made some of the most cherished memories of my lifetime.  I have ENDLESS stories from days afield that might get told again someday… if asked…and if I've had enough to drink…(wink wink).  Some of the best ones still get told regularly when I can get together with the many friends & relatives I've shared that special place with over the years. The most wonderful thing about those trips, and really, ANYTIME you get to experience time in the outdoors, is that nature GUARANTEES that you will SEE something you've NEVER seen before…or something will HAPPEN that has NEVER happened to you before.  It's GUARANTEED.  Kind of like an Easter egg in a video game. Those are the moments that make the best stories!  Sadly, my last few trips up north have disappointed me and my long time hunting partners SO much, it literally broke our hearts to see the landscape there now.  Coming to the hard realization that our long time tradition would no longer be feasible unless drastic measures are taken, by the powers that be, to bring it back to what it once was.  The "CRP" programs of the 80's and 90's, which paid farmers to NOT plant crops and instead put in tall grasses and keep them in place for 15 years in an effort to stop topsoil erosion, and enrich the soil, not only brought back the landscape to conditions not seen since the "soil bank" years of the 1930's, but an added benefit was record numbers of many types of birds and numerous wildlife species, some of which had actually been endangered before.  Perhaps someday the stars will align again before the end of my days, and the focus will again turn to the benefits of a balance with nature? Never say never I guess. In recent years, my travels up there seemed to end with more disappointment than joy.  I saw full sections of once public land sold off to the private sector or mowed down shorter than my lawn for hay.  MILES AND MILES of ditch HABITAT mowed, burned, or even plowed under by some locals and the professional outfitters to keep non-paying hunters away from those roads and "their birds".  I witnessed full sections of land go from chest high prairie grasses, with nothing to impede your walk but the occasional rusty farm implement or an old classic car resting comfortably in it, to giant clods of black soil turned over and planted right to the edge of (or over) the road with corn & beans, corn & beans, corn & beans, just to supplement an exploding ethanol industry now calling the political shots in that area.  It was all just so sad for a sportsman, conservationist and nature lover to witness. My hunting party and I discovered once open lands, that we had just made great memories in a couple of years earlier, now gobbled up into leases by bigger and bigger professional outfitters who bring in BUS LOADS of high paying clients. We watched them pile out of painted school busses, line up and sweep thru mowed out mini strips of cover that don't allow the birds a way to escape in fair chase…making it easy for their customers to shoot their limit of birds before the afternoon cocktail hour.  It was also sad to see those new industries bring in SO MANY new people, with big money from the big cities out of state, and watch those quaint little towns we used to lunch in, explode and expand with tentacle like urban sprawl, carving up once wide open spaces into acreages with huge log cabin hunting lodges with signs nailed on nearly EVERY post and tree.  Signs that read… "No Hunting", "No Trespassing", "Violaters will be prosecuted" , "Leased! Do Not Enter!", "Private Road" (no it's not… it's a half mile line that used to be a road before you planted it. A road I've hunted for 30 years with a wonderful weed filled ditch that produced the VERY FIRST retrieves from my first two Vizsla pups!)…..all of it crushes the real hunter's soul.  But thus, is the way of mankind and progress…just as it was back when the first train tracks were laid through those same grasslands back when the buffalo roamed it.  It is, and forever will be, onward and upward.  I do feel extremely blessed to have lived during one of the BEST times the american outdoor sportsman has seen.  A time when there WAS still a portal to the past in so many areas…and a time with just enough technology to document it forever in photos.
Now where is that old rake?  It appears my Ash tree just covered my yard in leaves…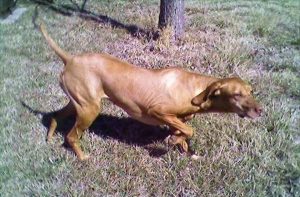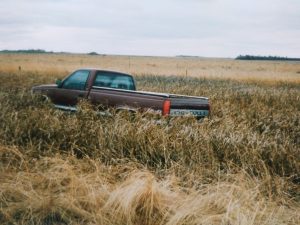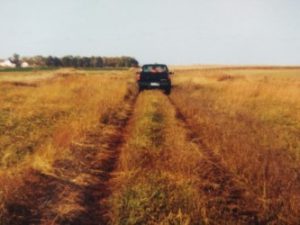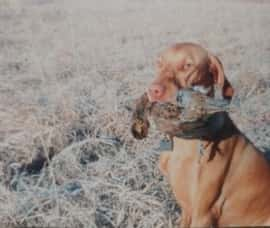 "I Run This Church For Bloggers"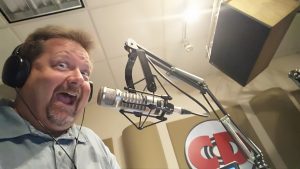 "What do you want to do?…..I don't know….what do YOU want to do?"
Typical conversation that was very common once upon a time in the Big O.  Depending on how well you keep the line of communication going with your significant other, this may still be heard in your social group……OCCASIONALLY.  "Doing something", it seems, is disappearing in many social circles as the rising addiction to technology, games, and social media or website browsing increases.  I think this is because in our minds, when we're staring into a 5 inch screen that is stimulating millions of electrical impulses in our brain to keep us occupied, content, entertained or programmed to spend our money….our brain thinks we ARE doing something.  In fact, it tells us we're doing something that we should KEEP doing, because it's MORE important than anything else that you SHOULD be doing as long as your eyes are fixed on that tiny little screen.  When you DO look up, (and I will occasionally because I get hungry) you find you no longer have the TIME to do the things you should have done, nor the ENERGY to do the things you WOULD HAVE, if you'd just given an answer to that question. Concentrating is exhausting!  Not that I don't want you to take the time to read and focus on my blog, (DON'T LOOK UP!), I do…but understand it's purely for selfish reasons that, somewhere down the line, are tied to the all mighty buck…which is.the REAL reason we all carry these high tech computers in our pockets. MONEY…BIG MONEY!  But we ALL do have to look up at some point, hopefully into a mirror, and see what's happening around us…..("Hey, Hey. What's That Sound?")  and then ask OURSELVES if this ARTIFICIAL stimuli is really what we want out of the precious hours left in our lives that we COULD be spending with PEOPLE? OR your pet for that matter, I'm sure even they get pissed at you! Look how fat they've become.  Is this the direction we want our society to continue, toward social behavioral engineering using technological addictions, down a path toward complete social isolation? (have you seen the movie Avatar?)  That being said….THIS WEEKEND, I have decided to THROW A PARTY!  I'm inviting a bunch friends to come over to my place…. to look at our phones……TOGETHER!
Although, I'll have to ask that you please try to be out by the time the Husker game starts……..you understand.   GBR!
(9/20/19)
"I Run This Church For Bloggers"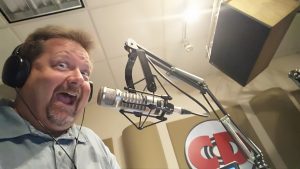 "September 11th, 2001…OUR day that will live in infamy"…
Our generation's Pearl Harbor.  Most all remember the personal details of that morning.  For me, it was sleeping in after working late and being up late with a brand new baby, just 11 days old, and hearing that phone ring.  It was my elderly Grandmother who would call at all hours of the day and night, as she was dealing with a little dementia at the time.   It wasn't unusual to get quite a story of worry out of Gramma occasionally, I remember the fear in her voice as she told me to "Get up and turn on the TV!!…America is under attack!".   Looking back at that moment in the years that have past, it still fascinates me that she called that right away.  Like her fading mind knew something no one else knew at that very moment.  I did get up, grabbed my baby son from his crib, who was also now wide awake because of the phone, and went to the TV to see the first tower with a tiny smoldering hole in it.  This was moments after the network went to coverage and Matt and Katie were speculating about "a small passenger plane accidentally crashing into the high rise."
The next 15 minutes or so is a blur.  I probably changed the baby, got his bottle going, kept checking the tube for developments, and listening to at least a half dozen more "talking heads" babble about their theories.  But at that moment, pessimistic old me still believed they were just hyping a terrible accident for ratings.  Until that 2nd plane.  Live.  I saw it Live…….at that moment.  That very moment….I FELT the world change in my GUT.  Forever.
A (not so) young new parent, still adjusting to the biggest decision I had ever made in my whole life, watching the world and the "free country' that I had grown up in and had just brought a NEW young life into…..change.   Forever.   When they started jumping, when the first tower crumbled, when the confirmation of other planes was announced, when the attack on american soil was confirmed…I remember those moments too.  In clarity.  I also remember looking down at this innocent newborn's face in my arms, with tears rolling down mine, and wondering……..would THIS be the moment in time that determines HIS purpose?  Would this be his sacrifice?  Just another soldier in some holy war?  But how long could this war last?  Surely not 18 years?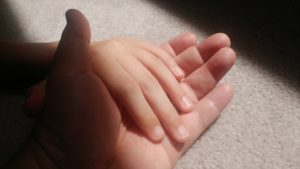 "I Run This Church For Bloggers"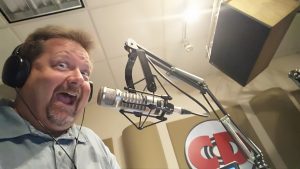 So…the boss suggested I "channel" my emotions about the Nebraska/Colorado football game….and "share" my (edited) thoughts on the game here in my blog……..so here goes………
Dammit.
AND NOW!! For something ENTIRELY DIFFERENT!
(but eerily similar to what I play for you during the workday…weekdays 10a-2p)
Ok…..it's really nothing like this….it OMAHA'S CLASSIC ROCK!
Click "Listen Live" above to hear for yourself!

"I Run This Church For Bloggers"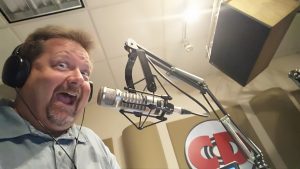 "Once upon a time in West O……there were these things called 'Record Stores' that would be named after vegetables like pickles, or fruit like peaches, or even pigeons like homers.  It's pronounced RECK'-erd…not ree-CORD' for any youngins' who may not be up on your distant pop culture. These stores were very special places…. full of the coolest things in the world at the time. Like purple blacklights that made the velvet posters that were plastered all over the walls GLOW in the dark AND in the light!  They had colorful tubular lamps that also glowed, and when they got warm enough primordial GOO would start to swim around inside the glass…seemingly dancing to the music that would be playing over the PA system.  It was an entrancing, active place that stirred deep emotional wants and desires and dreams of the coolest bedroom anyone could ever imagine!  It was the local connection to the wild and crazy clothes and hair that our favorite rock artists were wearing on stage, or on the short appearances they made on variety television shows.  Crazy stripes, paisleys, furs, in WILD COLORS. Cool leather fringe jackets, and FLARED out pant legs that could only be duplicated, in real West-O life, by having your mom sew in extra material up the seam of your worn out blue jeans. (Yes that happened, which sucked a little on SkateLand night or when riding your Schwinn)  You would wear those special clothes when you took your weekly pilgrimage to these mystical stores of endless discovery.  You see, there was no YouTube or Pandora or Google to search out new music…you listened to the radio (thank you) or you had to go on this physical journey of exploration.  You had to scrape together a war chest of gold to fund the adventure.   You turned in every bottle from your mom's pantry or that you found in the ditch for change.   You pulled out WEEKS of allowance quarters from cleaning toilets and vacuuming floors.  If that wasn't enough, you "went in on" combined ownership of a new album with a close friend. The same friend(s) who practically lived in your bedroom after school anyway, and were more than likely going to be there while you were listening to music anyway.  You'd work out the details of complete ownership later with a trade agreement, an option to buy, or a barter of some sort.  (BTW…these are the same people running Wall Street and implementing policy in our government right now.) During this Record Store Adventure, participants would have to possess a very specialized set of skills including the use of 'weaponry'….elbows mostly, and you had to master the art of the 'cut'.   You needed a certain dexterity to dart to an open row of popular music, weave to another aisle, just as someone left it, to be able to grab the last copy of that new artist release. Yet still be nimble fingered enough to quickly 'flip' through a row of album covers, instantaneously identifying amazing new talent and songs based solely on color, look, and the appeal of cover art or title.  It took years for most to master these arts, usually through some sort of apprenticeship with a sibling, classmate, or even the creepy older 20 somethings who worked countless hours there, for little pay, just to turn their entire paychecks (and then some) into black gold! Vinyl!  These people were like mysterious Wizards of record label/producer/new artist/deepcut/total run time/and release date knowledge, that NO ONE ELSE IN THE UNIVERSE POSSESSED. They burned ancient, entrancing, smokey incense near the cash register, validating the wonderful nirvana you felt about your music choice.  They were always reading something pertaining to music, and had little patience for amateurs. These music store warlocks could cast a THUNDEROUS spel…I mean…YELL across the room that would shake rafters and cut out the PA system should any of their treasured vinyl be mishandled or mistreated by some young devil spawn kid who was dragged to the store by his babysitter.  That same 'little brother' who thought that a 'Live at Leeds' album looked like a good race track for his HotWheel cars!   Every visit to the neighborhood record store was truly an adventure, and as an adventurer, you could only wish to someday be accepted by those odd Masters of that Universe…hope that you would develop the trust to someday be invited back to their parent's basement to be enlightened by mind blowing music collection secrets, spells of artist backstories, and maybe, just maybe, get a glimpse of their glorious vinyl collection! Most of which would put an entire K-Mart or Sears record department to pitiful shame.  I've heard urban legend stories of floor to ceiling stolen Robert's and Goodrich Dairy milk crates containing nothing but one of a kind and ultra rare foreign release albums, wrapped in their very own CLEAR PLASTIC PROTECTORS relegated for only the best of the best!  Entire lengths of wall STACKED with carefully orchestrated concrete block & plywood planks, with lit candles carefully placed to highlight and accent the wondrous texture of literally thousands of finely worn album cover edges with a hundred eyes gazing lovingly at them from artist posters that adorned the opposite walls.  All of that glorious VINYL…just waiting for someone to meander through the treasure on a quest for SOLID GOLD EAR…….RINGS!  These were the things young music listeners experienced…without ear  'pods'…
Once upon a time in West O.
We've always said our CD 105.9 listeners step up and answer the call everytime we ask….OMAHA/COUNCIL BLUFFS and our surrounding communities…YOU ROCK!!  The American Red Cross "Let it Bleed Blood Drive" saved 1116 LIVES on Friday August, 9th!   YOU GAVE 372 Pints of blood at a time that it was desperately needed.  Thanks to all who gave blood, gave of their time or their talents to make it such a great event.  The future looks bright too, as these teenage musicians from the "School of Rock" volunteered their time to come out and ROCK the Ameristar Casino, while the donors enjoyed the best seats in the house!
Man…. band class has changed since I was in school!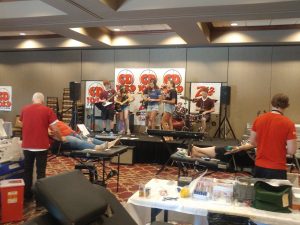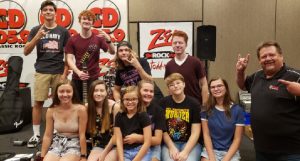 "Once upon a time in West O"…..when West Maple Road was just a blacktop lined with Maple and Cottonwood trees, when West Dodge was a 2 lane dirt road that led to nothing but last chances,
when Q street was a bumpy brick road up to a high school, and when butterflies and buffalo still roamed along west Hwy 370…there was a FEARLESS young boy getting ready for his first day of school.  He knew the routine, new jeans & shirt bought over the weekend at K-Mart, shiny new tennis shoes without a scuff and a fancy new dollar haircut from Denny's Barbershop. This boy would walk fearlessly down the street, past Pam's house, past Judy and Caeli and Tom's houses, (he knew where everyone in his class lived), then around the corner to pick up his walking buddies Dan and Jeff and sometimes even Scott…if he could get up in time. There was no fear of anything except being late. There was safety in numbers, and there were numbers.  Other bunches of friends to throw snowballs at, who also gathered every morning in rain, snow, thunderstorms (they weren't labeled 'severe' back then unless there was a really good chance it would throw out a twister in the next 15 minutes.)  All the kids had with them were lunch pales, or brown bags, and maybe a book or two in hand, and they were bundled up when need be (no bball shorts…you'd be sent to special-ed if you wore that on purpose during winter) ready for the trek across the neighborhood to school.  These kids only got rides, a special treat indeed, if they were coming from a new neighborhood development, if their stay home mom had errands to run anyway, or if the weather truly was in that zone between 'pretty bad' and 'school is cancelled'.  The fearless daily adventurers made the best of every rain puddle, snow drift, can or rock in the street that they wandered by.  Of course, they were told about the dangers of 'bad people' that want to hurt others…'strangers' that will try to trick you with candy or needing help looking for a dog, because those things did happen…in big cities and towns on the other side of the country…but never here.  Not THIS neighborhood.  The biggest scares they dealt with were a couple of the neighborhood trouble makers (they all knew who those guys were, heck, some were the older brothers of their friends!)  and if you didn't pay attention to what was happening around you, you might get egg'd, end up with a wedgy,
or even lose your milk money!  OK….maybe not completely fearless.  The things that we parent's now have to warn our children about, have to WORRY about…the things today's kids SEE happening and have to fear on THEIR walks to school, or even on their phones or TV when they get home, just COULD NOT, WOULD NOT have ever happened back then.  Today's kids, our children, must now be 'Vigilant' at a movie theatre, playing in their own back yard, sitting in a classroom getting their education, walking to a friend's house, shopping at a mall, or dancing in a club.   These kinds of fears were unimaginable when all the streets in the neighborhood went by somebody's house that you knew…….
once upon a time in West O.
Jeff Larson Gallery