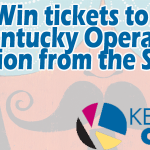 " We want to send you to see
Kentucky Opera's performance of "The Abduction from the Seraglio!"
The over-the-top story of "The Abduction from the Seraglio" on Nov. 4 and 6. Characters include a nobleman who tries to rescue his lady from a Turkish harem and a comedic villain who tries to murder the entire cast. Gustav Andreassen will play the villain, but the hardest part of his performance will be hitting two low D notes — one of the lowest notes demanded in opera.
To win, we want to know how you have been 'rescued by romance'!
Oops! We could not locate your form.