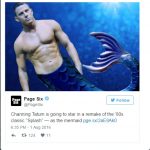 There's been a lot of buzz about Disney's remake of Splash with Channing Tatum playing the mermaid. So it's gender swapped.
Channing Tatum is going to star in a remake of the '80s classic "Splash" — as the mermaid https://t.co/2ygFqz2g4R pic.twitter.com/DpxBi00xkl

— Page Six (@PageSix) August 1, 2016
Then MJ found out that they are doing a sequel to Flatliners. MJ is on board with this. Jesse is sort of meh.
The one that created the most stink (especially with listener Harrison) is the lifetime remake of Beaches.
Bette Midler "can't wait" to see Idina Menzel play CC in the 'Beaches' TV movie https://t.co/OOEUZj5raf pic.twitter.com/4A72lO9taz

— Hollywood Reporter (@THR) August 3, 2016
Bette Midler seems happy about it. Jesse's never seen it and doesn't care to. Several men called in and said he needs to watch it. Really???
Thoughts?