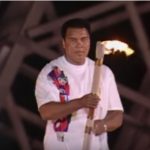 Before you try me in the court of internet opinion hear me out. I respect Muhammad Ali. This isn't one of those articles that accuses him of being a "no good draft dodger." If that's why you're reading, sorry to disappoint.
When you think of Muhammad Ali, what comes to mind? Probably something like this
My first image of Muhammad Ali was at the 1996 Olympics lighting the Olympic torch. By then he was not in his boxing prime and was already showing signs of Parkinsons disease. As a 10 year old from southern Indiana, I just knew him as a famous boxer from Louisville.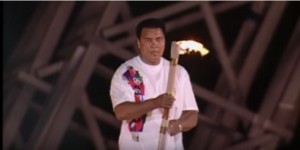 Flash forward a few years, I'm a young adult working in the media in Louisville, Ky. The Ali Center has already been built. In my mind it is a museum for a famous boxer. I hear the facts. Muhammad Ali was the greatest boxer of all time. He has a daughter named Laila Ali. She boxed and hosted American Gladiators. He has another daughter Maryum Ali. She was on the A&E show 60 Days In. Muhammad Ali was also known as a great humanitarian. (Many former and current athletes have had that said about them)
I also know that there is some controversy over his refusal of the Vietnam draft. Many still resent him for that. Many admire him for that. For me, it's history, I learn it but I wasn't there.
I am aware that there is more to him than this but before this week, if you had asked me about Muhammad Ali. That's probably what I would have told you.
I guess what I'm saying is that all of the facts have been there but the connection was never really made. That's what this week has brought out for me. I feel like an outsider.
I don't have a cool story about meeting him and seeing that twinkle in his eye or watching him do magic tricks for fans.
So where do I go from here? Do I just say, "Well he belonged to your generation, why should I care?" That would be the easy thing to do. It would be what many in my generation or younger would be expected to do.
MJ and I had this conversation on air. (Feel free to give it a listen)
I'm not alone in my thoughts by the way. Sorry we didn't get your name but we appreciate you calling in .
I had already thought by this point,"Maybe I should go check out the Ali Center." It's there and I've never been.
Then Barbara called. (This is our unedited phone conversation. It's a bit long)
She started a little on the defensive, just as I think many of you may have started, but once I said my what I had to say she shared her feelings on Muhammad Ali. She did more than just share thought, she extended an invitation, from her generation to mine to get to know "Her Ali." It was an invitation I am humbled by and more than willing to accept.
She and I are going to the Ali Center together today. Don't know what I will get out of it. Don't know if I will suddenly feel that connection to this man I never knew. Don't know if I will suddenly feel like an insider on this time of mourning for the loss of Muhammad Ali.
I do know I'm looking forward to learning more about this man who impacted the world in such a way that 15,000 tickets to his memorial were distributed in an hour!
I hope that by the end of this, I finally get Muhammad Ali.
Jesse Ras from the Morning Play