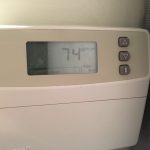 It's summertime. The Thermostat Wars have begun. It's about 73 in Jesse's house (he says too hot needs to be 69-71). MJ's House is a nice cool 70.
Becky called in and it's a balmy 75 degrees
Missy called and she likes to keep it at 81 degrees Fahrenheit!???
On the opposite end of the spectrum, Ashley (AKA Mrs Freeze) likes it at 60 all year round!