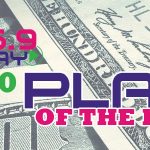 Listen in to Ric Owen at 5:20p each weekday afternoon to find out what song to listen for the next day during The Morning Play with Jesse & MJ (between 7a-9a).
Hear that tune play the next day and caller 9 grabs $100!
HOW IT WORKS:
Contest runs from May 18thth-June 10th.
This contest runs on a one day delay when it comes to winning!
First day to listen at 5:20 with Ric Owen (giving out the song title) is May 18 and  last day is June 9.
First day to listen for the song between 7-9am with Jesse and MJ's (taking a winner) is May 19 and their last is June 10.
Caller 9 each morning wins $100.
INFORMATION ABOUT WINNING:
Winner must come in to Summit Media office (612 S 4th St) and sign paperwork WITHIN ONE WEEK OF WINNING OR WILL FORFEIT PRIZE. Once that is done, we add you to our list of winners and send off that list to get the checks cut every two weeks. (Expect your check in 4-6 weeks from date of win.)
SEE OFFICIAL CONTEST RULES (Must be 18 to win.)