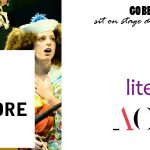 MJ pulls back the curtain at Actors Theater and allows you to get up close access to their latest production – HMS Pinafore!
ABOUT THE SHOW:
Join Chicago theatre renegades The Hypocrites on the high seas—or, in this case, at a slumber party full of pajama-clad sailors—in their playful reimagining of the popular Gilbert and Sullivan classic. Joseph, the Captain's son, falls for lowly sailor Ralphina Rackstraw…but duty demands that he marry the lofty Admiral Dame Jo-Ann instead! Replete with guitars, ukuleles, and reversed gender roles, this comic tale of love, intrigue, and social satire comes to life as you've never seen it before.
(Age Recommendations: Ages 11+)
(Student Matinee Grade Levels: 6 – 12)
Enter below to win a grand prize "Behind the Curtain" experience that includes:
– Access for 4 to see a dress rehearsal of the show on Nov. 15 (Sunday) with ON-STAGE viewing!
– Dinner at Ditto's Bar and Grill on Bardstown Road
Oops! We could not locate your form.